We are very excited to launch our new Customer Portal, powered by Xplor Recreation today!
 Look out for your log in details
Shortly, you will receive an email to this email address with your log in details to the new Customer Portal. The email will look like this: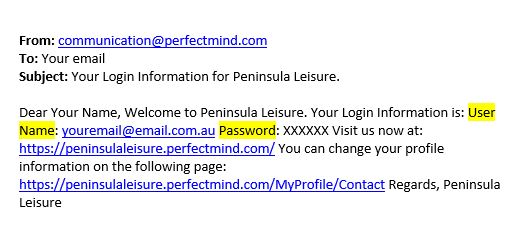 Please click on the link in the email: https://peninsulaleisure.perfectmind.com/
Enter your user name and temporary password
You will be asked to create a new password the first time you log in
You can then use these details to create a new password for your account, and from there, you can start managing your membership with us online, and booking into Group Exercise classes.
 I didn't receive the email
All emails servers are different, but we expect all login emails to be sent individually to members this morning, Tuesday 31 January. If you did not receive this email to login by end of day, please complete the form on our website HERE by selecting 'Logging in / access' as your reason for support, and a member of our team will come back to you.
 Extra staff to support
Throughout the launch period we will have additional staff to help guide you through the new process. In the early days, there may be some minor teething issues, so please be patient as we endeavour to troubleshoot any issues you may come across. We encourage you to share your feedback along the way.
 HOW TO Instructions
We know that with any new platform, there are new habits to form and new processes to learn. To make things easier, we have put all your Customer Portal resources on the one page.
QUICK LINKS
If you have any questions please start by checking out this page first. If you can't find what you are looking for, please complete the form on our website HERE and a member of our team will come back to you.
Thanks,
Your PARC and Peninsula Leisure Fam